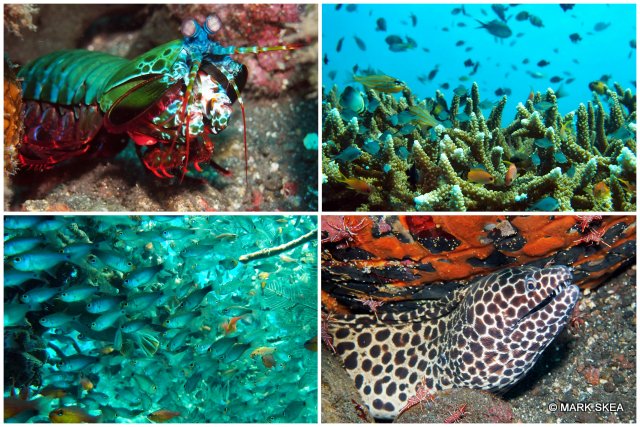 When we signed up for a day of diving in Bali we weren't quite sure what to expect after our five days of stunning diving at Bunaken in Sulawesi. We opted to stay along the stretch of coastline on the North East of Bali known as Amed, partly because it was reputed to have good diving.

After a wander around the various dive centres checking out what kind of dive packages they offered, we eventually chose Jukung Dive whose dive centre was a stones throw from our hotel. This Dutch owned concern has a very impressive dive centre and a great cafe/restaurant where we had lunch each day after diving. The divesites were at a location further up the coast at Tulamben which is best known for the wreck of the USAT Liberty (where we spent our second day – the subject of a later post). It's a very picturesque location for starting a shore dive, with the local outriggered fishing boats sitting at the top of the beach where you kit up.

You can check out an aeriel view of the beach below. The wreck of the USAT Liberty is visible just below the surface of the water and Mount Agung can be seen in distance disappearing into the clouds.


Liberty ship wreck – aerial panorama – Bali. Tulamben in indonesia

The Coral Garden consists of areas of hard and soft corals with the addition of various man-made features which have been placed there to act as an artificial reef. One of these is a framework of metal rods that has been been arranged into the shape of an aeroplane (the wings seemed to have dropped off!). This played host to a huge number of different fish of all shapes an sizes. If you look at the picture taken inside you might be able to spot a Pufferfish hiding amongst a large shoal of smaller fish.

In another of the manmade features we came across a Peacock Mantis Shrimp which posed for some nice photographs after a bit of 'encouragement' from our dive guide. These bizarre looking creatures are considered to possess the most complex eyes in the animal kingdom. They can also move their claws at incredible speed in order to smash the shells of crabs, molluscs and other prey. They're nicknamed 'thumb-splitters' in Australia so you keep your hands well clear of them!

Elsewhere we came across a Cuttlefish who put on a bit of a colour changing display for us and also a Ribbon Eel which was hidden in a hole when we were outbound on the dive but was swimming around in the open on our return. I had come across these when we dived at Pulau Weh in Sumatra last year but had never seen one out in the open until now. It's now obvious how they got their name as they move by making undulating movements along the length of their body that give them the appearance of someone flicking a brightly coloured ribbon.

The dive ended with with us swimming past a group of statues, one of which was holding an anemone in its clasped hands. All it was missing was a couple of Clown Fish, but given the number we saw elsewhere on the dive it won't be long before some take up residence. 🙂