It's almost a month since i returned from an amazing three week trip to Indonesia diving Sulawesi, Komodo and Bali, yet I haven't even finished sorting through the photos I took last year!
When we visited Bunaken Island last July we enjoyed our stay at Sea Breeze Resort so much that it was a very easy decision to return there this year.  Terry, Diana and all the staff made us feel very welcome and the atmosphere at Sea Breeze is just as chilled as the diving around Bunaken.
Continue reading "Bunaken Island Day 2, Sulawesi – July 2013"
I've been meaning to edit this video for ages – almost six years in fact! It's not every day that you have the opportunity to dive with wild dolphins. You may see them on the surface on route to a dive but actually being under the water with them swimming around and near you is a rarity.
We were diving out of Los Gigantes with Riaan's Scuba.  Riaan had an agreement with the local fish farm who allowed him to dive in the vicinity (not beneath) the fish cages just up the coast from Los Gigantes since he had done some work for them in the past.  A group of dolphins often hung about in the vicinity of the cages, possibly hoping to catch escapees.  Or perhaps feeding on the shoals of wild fish that gobbled up any feed that fell through from above.  The sea bed was flat and featureless but there were plenty of Rays – Common, Eagle and Torpedo.  There were a few Triggerfish too, one of which took a particular shine to its own reflection in my camera housing.  I give them a wider berth these days ever since a Clown Trigger took a dislike to me during a dive at Sipadan in Borneo a couple of years ago! Continue reading "Dolphins at Los Gigantes, Tenerife – October 2008"
This was actually the first dive we did in Bali at Tulamben, our second being at the Coral Garden which was the subject of an earlier post. The dive starts with a swim across an area of sandy bottom where our guide pointed out several different kinds of brightly coloured Nudibranchs (Sea Slugs) dotted around. We soon reached the start of the wall that drops away to 40 metres and gives the dive site its name. Continue reading "Tulamben 'Drop Off', Bali – July 2013"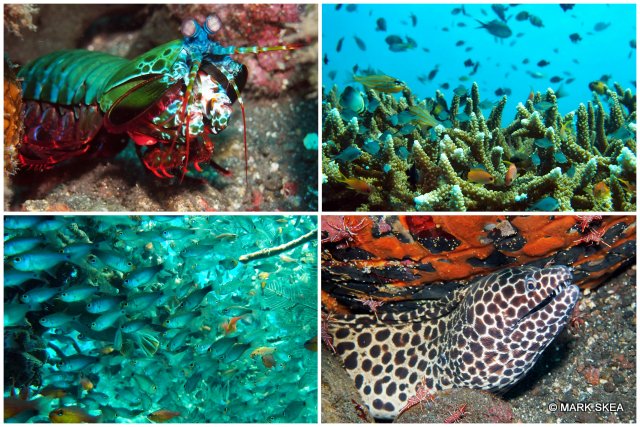 When we signed up for a day of diving in Bali we weren't quite sure what to expect after our five days of stunning diving at Bunaken in Sulawesi. We opted to stay along the stretch of coastline on the North East of Bali known as Amed, partly because it was reputed to have good diving.

After a wander around the various dive centres checking out what kind of dive packages they offered, we eventually chose Jukung Dive whose dive centre was a stones throw from our hotel. This Dutch owned concern has a very impressive dive centre and a great cafe/restaurant where we had lunch each day after diving. The divesites were at a location further up the coast at Tulamben which is best known for the wreck of the USAT Liberty (where we spent our second day – the subject of a later post). It's a very picturesque location for starting a shore dive, with the local outriggered fishing boats sitting at the top of the beach where you kit up. Continue reading "Tulamben Coral Garden, Bali – July 2013"