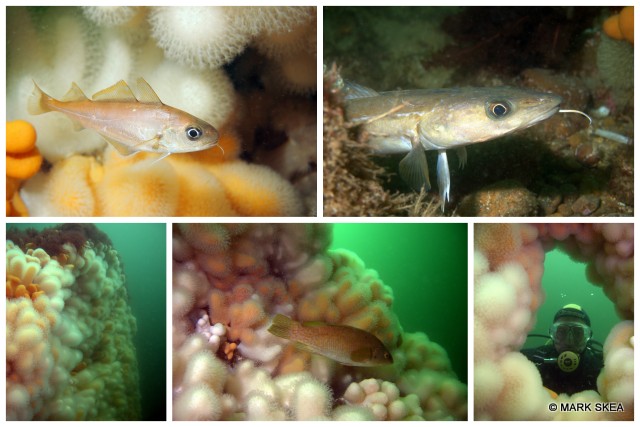 The SS Nar was on route from Sunderland for Burghead on the shores of the Moray Firth carrying a cargo of coal when it foundered off Garmouth on the 13th December 1904. It is well broken up now, lying in 12 metres of water on a sandy bottom where its boiler, various plates, capstans, winches and other rusting remains have become home to a large variety of marine life. This was my first opportunity to dive the Nar during a weekend of wreck diving out of Lossiemouth with North East Dive. We also dived the San Tiburcio and the Unity, both of which I hadn't dived in 6 or 7 years at least.



The large boiler is enveloped in Dead Man's Fingers and Plumose Anemones and is still fairly intact except for a collapsed section along the top on one side where you can see some of the boiler tubes – now covered in life too. The next largest section of remaining wreck is a chunk of the bow which rises a few metres from the sea bed and is also covered in soft corals. A torch is a must on this wreck as there are lots of holes and hiding places under plating where we saw lobsters, crabs, ling, flounders and even a Conger Eel with the tail of a half eaten fish sticking out of its mouth. Ballan Wrasse were zipping around everywhere and there were a lot of ling out swimming around rather than peeking out of hiding places, which is how you more commonly come across them. We entertained ourselves for a while watching two of them chase the beams of our torches across the sand, behaviour you might expect from a dog rather than a fish! There was a huge shoal of sand eels feeding above the surface and then suddenly darting off after being chased by pollock or startled by the beam of a torch. We even saw a couple of large cod, one of which darted out from the boiler and back in again as we left the wreck and made our way up the shot line for our safety stop.

As we headed back to Lossiemouth harbour we were met by a pod of dolphins. They were tail-slapping the surface of the water over towards the mouth of the River Lossie – possibly working together to catch fish? A nice ending to a great dive on a very scenic wreck that I look forward to diving again.


Some video to follow once I have made time to edit it! 🙂 Check out this previous post on a dive on the wreck of the Moray I did with North East Dive last year.