Back to St. Abbs at the beginning of September for a couple of days of diving  in bright but breezy weather on Paul Crowe's boat 'Shore Diver'. The water temperature varied from 13-14 degC and the viz was very respectable following a period of settled conditions.  This meant that photographing things further than a few feet away was a possibility!
The morning's dive was at The Craig (Craig Rock on the map below) which is situated just below St Abbs Lighthouse.  It was great to see plenty of fish around and you were never far from a Ballan Wrasse hoping for a feed.   There were plenty of Pollock swimming around too and Ling peeking out from hiding places beneath large rocks.  This was a relatively shallow dive with a maximum depth of 18 metres although our average depth was only 13.  It was great being able to stop, look up and see the surface of the water overhead with the sun shining down.  The carpets of yellow and white Dead Man's Fingers looked stunning with their polyps out feeding.
Continue reading "St Abbs – The Craig and Black Carrs – September 2014"
Millshore is proof, if it were needed, that you don't need to go deep to have a really interesting dive where there is loads to see.  My dive computer recorded a maximum depth of 8.4 metres on this latest dive and we were diving at high water on spring tides!
It's been a good year for making it back to dives sites that I haven't visited in a long time.  I hadn't done much diving around the Firth of Forth in 3 or 4 years, so it was great to get the opportunity for a return to the Bass Rock and Isle of May. We were diving with Shadow Marine from Anstruther aboard Skipper Steve Haddow's catamaran Mako.  It's a well equipped, roomy boat with a diver lift, toilet, Bauer Mariner compressor for air fills, hot drinks served in proper cups and posh biscuits!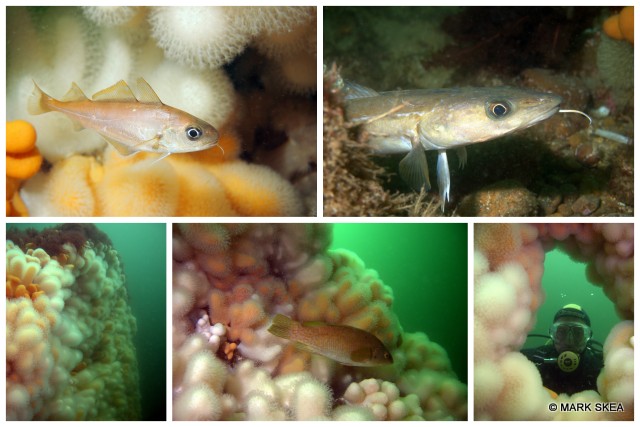 The SS Nar was on route from Sunderland for Burghead on the shores of the Moray Firth carrying a cargo of coal when it foundered off Garmouth on the 13th December 1904. It is well broken up now, lying in 12 metres of water on a sandy bottom where its boiler, various plates, capstans, winches and other rusting remains have become home to a large variety of marine life. This was my first opportunity to dive the Nar during a weekend of wreck diving out of Lossiemouth with North East Dive. We also dived the San Tiburcio and the Unity, both of which I hadn't dived in 6 or 7 years at least.

Continue reading "The Wreck of the Nar, Moray Firth – June 2014"