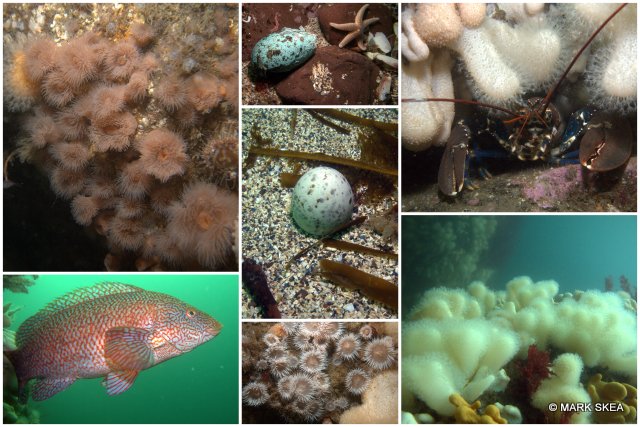 The St. Abbs VMR is a dependable spot for some nice, easy scenic diving and since Summer seemed to finally arrive at the start of July, seven of us decided to make the most of the great weather and booked spaces for the weekend on Paul Crowe's boat the Tiger Lilly.
We dived West Hurker and Tye's Tunnel (which I haven't dived in years) on the Saturday and then started Sunday's diving with a dive at Skelly Hole.

This isn't a dive to be attempted on a day where there is any swell as the boat has to be maneuvered into a fairly tight spot to drop you off. It's reasonably shallow too so any wave action would turn it into a fairly good approximation of a dive in a washing machine. Fortunately we had two warm days with reasonably light offshore winds and conditions were ideally suited to attempt this site.

We didn't hang around long inside Skelly Hole, just long enough for a quick once around and to spot a couple of eggs lying on the sand from the Guillemots that nest up above. A couple of Ballan Wrasse came over to check us out, obviously a bit over-familiar with divers and keen for us to dispatch with an Urchin, but we didn't and instead I managed to snap a good close up photo of one. The visibility was better than we had on the Saturday with less of a Plankton bloom and it provided a good opportunity for some shots of the Anemones that jostle for space on the rocks here.

We surfaced after a very enjoyable hour long dive to the sight of Guillemots zipping across the water towards us, passing several feet above our heads and off out to sea to fish for a meal for hungry chicks up on the cliffs.