Back to St. Abbs at the beginning of September for a couple of days of diving  in bright but breezy weather on Paul Crowe's boat 'Shore Diver'. The water temperature varied from 13-14 degC and the viz was very respectable following a period of settled conditions.  This meant that photographing things further than a few feet away was a possibility!
The morning's dive was at The Craig (Craig Rock on the map below) which is situated just below St Abbs Lighthouse.  It was great to see plenty of fish around and you were never far from a Ballan Wrasse hoping for a feed.   There were plenty of Pollock swimming around too and Ling peeking out from hiding places beneath large rocks.  This was a relatively shallow dive with a maximum depth of 18 metres although our average depth was only 13.  It was great being able to stop, look up and see the surface of the water overhead with the sun shining down.  The carpets of yellow and white Dead Man's Fingers looked stunning with their polyps out feeding.
Continue reading "St Abbs – The Craig and Black Carrs – September 2014"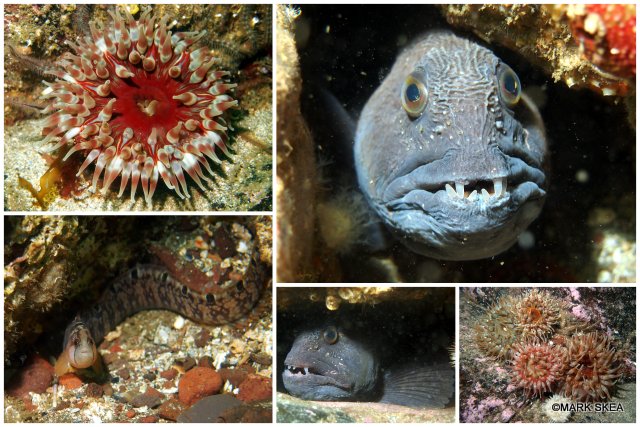 Rapidly approaching dive number 50 of 2014, despite the lack of updates here! This was our second visit to St. Abbs this year, having dived the wreck of The Glanmire back in April in what was probably some of the worst visibility I've ever experienced on a wreck in 30 metres of water! This most definitely was not the case this time though. We rounded the corner at the top of the brae and descended to the harbour area on a sunny June morning with light winds and a blue sea (not green/brown!) that looked inviting. This was our first opportunity to check out Paul Crowe's new boat 'Shore Diver'. We were due to be on it the day after our Glanmire dive (not with Paul) back in April, but Paul rightly called it off given how the vis had been. Shore Diver is a big, wide boat and roomy even with its full count of divers onboard. It can shift too, so travel times to the dive sites are speedy just as they were on his previous boat Tiger Lily.
Continue reading "St. Abbs, The Craig and Anemone Gullies – June 2014"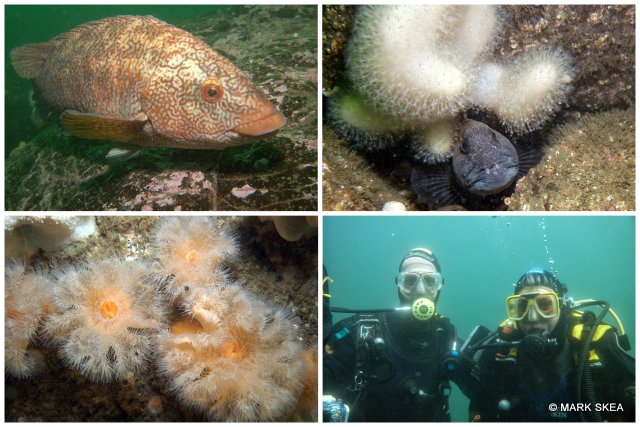 Black Carrs is a site that will be familiar to anyone who has dived at St. Abbs before. It's a great place to see Atlantic Wolffish and when we visited here back in June we actually saw six of them on a single dive! We dived from Paul Crowe's boat The Tiger Lilly again.

Continue reading "Black Carrs, St. Abbs – July 2013"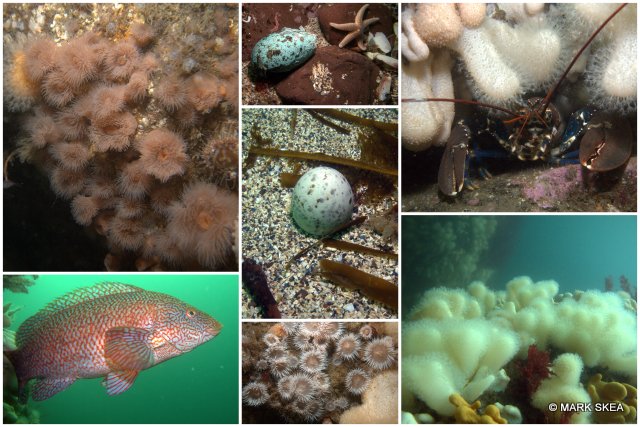 The St. Abbs VMR is a dependable spot for some nice, easy scenic diving and since Summer seemed to finally arrive at the start of July, seven of us decided to make the most of the great weather and booked spaces for the weekend on Paul Crowe's boat the Tiger Lilly.
We dived West Hurker and Tye's Tunnel (which I haven't dived in years) on the Saturday and then started Sunday's diving with a dive at Skelly Hole.

This isn't a dive to be attempted on a day where there is any swell as the boat has to be maneuvered into a fairly tight spot to drop you off. It's reasonably shallow too so any wave action would turn it into a fairly good approximation of a dive in a washing machine. Fortunately we had two warm days with reasonably light offshore winds and conditions were ideally suited to attempt this site.