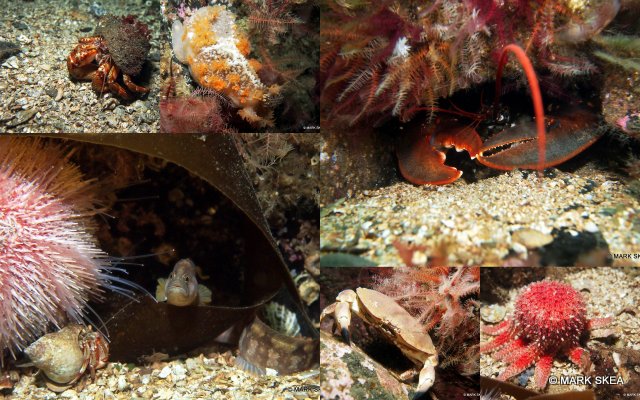 When you read rave reviews about dive sites you always take them with a pinch of salt. One reason is that there are as many different opinions of what constitutes a good dive as there are divers. With this in mind and having done a fair amount of research it was time to dive Conservation Bay and form my own opinion!
Conservation Bay is situated along the north shore of the Strome Narrows near the mouth of Loch Carron. It is just to the west of the very picturesque North Strome, itself the site of a couple of shore dives which I have yet to explore.


View Conservation Bay Dive Site in a larger map
There is a footpath that makes access to the Bay easy with parking space on the side of the road opposite. A spotting of an Otter and a Heron during a pre-dive recce of the bay was encouraging – Otters and Herons have to eat after all so there must be something down there. 😉

Timing is key when diving this site as there is a LOT of water that shifts through the Strome Narrows when the tide is running. You definitely want to dive at slack, keeping an eye on what the current is doing throughout the dive. We were super cautious on our first dive to the point that it was almost comical the speed that we returned to the Bay the moment that we started to feel a current. A slight over-reaction possibly but better to be safe than sorry and having visited the site again I now have a much better idea of when best to dive so as to have plenty of time to enjoy it without devoting too much time to thoughts of being swept away. 😉

The dive involves entering the water from the shingle beach at the left side of the bay and following the wall around the headland, keeping it to your left before doing an about turn and returning with it on your right side. On your way out you will come across a plaque on the wall and a plinth nearby with another plaque on it. The dive is pleasant up until this point with Feather Stars and the odd Dead Man's Finger on the wall as well as Crabs, Squat Lobsters and all the usual suspects hiding in the rocks on the floor. It is once you pass this point however (ensuring slack!) that there is an explosion of life of all sorts. The wall is covered in lots of Dead Man's Fingers being chomped on in various places by Dead Man's Finger Sea Slugs. Butterfish, Yarrels Blennies and Scorpion Fish are curled around them in various places with Velvet, Hermit, Edible and Spider Crabs clinging to the wall in the spaces between. I have never seen so many Butterfish in one place. Their odd little grumpy faces seems to be staring at you from everywhere. If you stop to take a photograph you seem to disturb one that you haven't spotted or something else that is on the floor which is itself dotted with Dead Man's Fingers creating a rather odd feeling of being half boxed in by two walls! Sun-stars, Spiny Starfish, Bloody Henrys, Brittlestars and Sea Urchins are all present and on a later dive we even spotted a large Conger hiding in a pile of rocks a short distance away from the wall. An amazing variety and quantity of life for such an easily accessible dive site and the only sites I can think of that come close to it are probably some of those in the Firth of Lorn.


In fact, it was such a stunning dive that I had to go back and do it again. More than once…. 😉