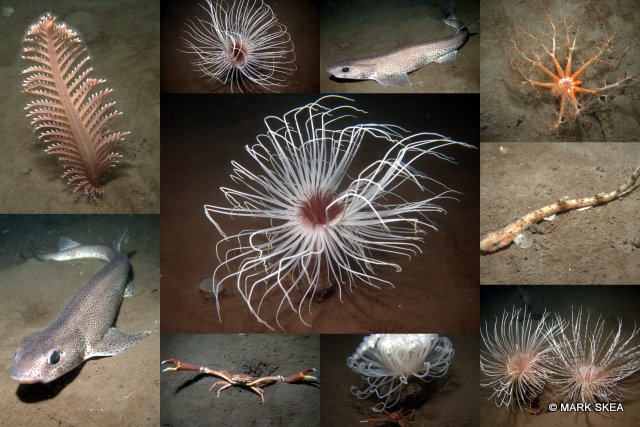 This was the second of two very different dives in one day in neighbouring Sea Lochs – Loch Duich and Loch Carron. The first dive had been earlier in the day at Conservation Bay, Loch Carron (the subject of a future blog entry!).
The morning's dive had been stunning and our expectations of Inverinate were 'realistic' since it is so much further into Loch Duich than Conservation Bay is into Loch Carron. This generally makes for less current and less life to see, although we were very pleasantly surprised and impressed with our first dive at this site.
After parking the car in one of the two parking areas at the loch side of the road (see map below) we were kitting up when one of the locals came over for a blether. He happened to own a small boat that he was planning to put in the water again soon and had had the 'slip' cleared in the previous few days for that purpose. He also mentioned that a couple of other divers had been along earlier in the day but they were long gone and as a result we had the place to ourselves.

View Inverinate Dive Site, Loch Duich in a larger map
We followed one of the dive guides over on Finstrokes again, which proved to be typically informative and its description of the dive was so spot on that I was almost laughing to myself as we headed out into the loch and the various types of sea life described in it gradually came into view right on cue.
As we headed out into the Loch after first passing over an area of seaweed we came across groups of orange coloured burrowing Sea Cucumbers fishing particles out of the water with their tentacles and passing them to their mouths. Further out Phosphorescent Sea Pens came into view followed by Tall Sea Pens. Then a Firework Anemone spotting, followed by another, and another until I realised that they were actually dotted all over the place in the highest concentration I think I've ever seen. Other highlights were an adult Dog Fish and also a baby Dog Fish which was the smallest I think I have ever seen and still had the remains of its yolk sac attached.
All in all, a very enjoyable dive with lots to see and a very easy entry and exit off the shore. Definitely one to keep in mind for a future visit! 🙂